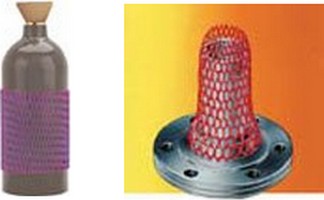 Tubular Protective Netting
Gas Cylinder Protective Netting. Ideal for external protection of gas cylinders. Protects against damage during storage or transportation. Supplied in handy dispensing cartons.Available pre-cut lengths; details, please contact your dealer.
Part Number
Diameter Range (cylinder size)
Color
meters in the package
Price for
package
43623
100-200mm (2-20 lit.)
Black
50
82 EUR
43624
200-300mm (20-50 lit.)
Purple
50
90 EUR
Tubular Protective Netting. LDPE. Protects irregular shapes. Excellent stretch capability. Handy dispensing systém. Colour coded by size.
Part Number
For Diameter
Color
meters in the package
Price for
package
43048
6-17
orange
250
110 EUR
43049
10-25
Black
250
161 EUR
43050
18-60
Purple
50
38 EUR
43051
50-100
Red
50
62 EUR
43053
100-200
Yellow
50
125 EUR
43054
200-400
Blue
50
149 EUR

Prices are without VAT. If specified order number, please, it will add it to the selected type of goods. We will be glad to send you any quantity. In case of large subscriptions, please contact us.