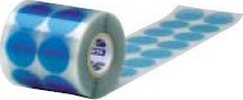 Blue Discs up to +204°C
Polyester
General-purpose discs suitable for most masking applications including powder coating and anodising. Quick adhesion for time-saving application. Clean removal - leave no residue.
Part Number
Disc Diameter
(mm)
Disc
Per Roll
Std Pack Qty
price/pc
460509
12,0
2000 pc
1 pc
96 EUR
460510
25,0
500 pc
1 pc
43 EUR
460511
40,0
250 pc
1 pc
72 EUR
460512
50,0
250 pc
1 pc
49 EUR

Prices are without VAT. If specified order number, please, it will add it to the selected type of goods. We will be glad to send you any quantity. In case of large subscriptions, please contact us.