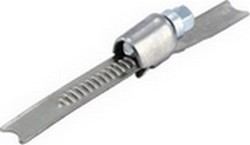 Straight band Type 2
This clip in flat form used for special applications. Both its ends can be welded to the two different parts. Using eg furnaces, chimneys… It can produce other dimensions than those shown in the table.
diameter/width
[mm]
Box prices
Bag prices
pc/box
price/pc
pc/bag
price/pc
Straight band W4 16-25
1000
0,35 EUR
50
0,46 EUR

Prices are without VAT. If specified order number, please, it will add it to the selected type of goods. We will be glad to send you any quantity. In case of large subscriptions, please contact us.