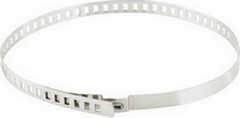 Universal clamp the cuffs W4
Universal buckle cuffs W4 has a wide clamping range. It is made of stainless steel. These hose clamps are supplied in flat form.
diameter/width
[mm]
Box prices
Bag prices
pc/box
price/pc
pc/bag
price/pc
25-50/7
1000
0,26 EUR
50
0,34 EUR
40-110/7
1000
0,44 EUR
50
0,56 EUR
60-140/7
1000
0,64 EUR
50
0,84 EUR

Prices are without VAT. If specified order number, please, it will add it to the selected type of goods. We will be glad to send you any quantity. In case of large subscriptions, please contact us.