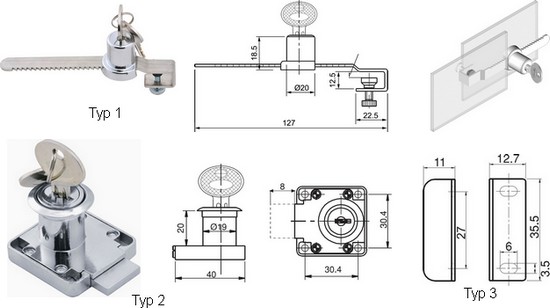 Furniture Locks
Type 1:Chrome Plated Steel body with Stainless Steel Slide
Type 2 & 3: Chrome Plated Steel

Type 1: Ideal for glass doors
Type 2: Wooden furniture locks suitable for drawers, cupboards, etc.


Part Number
Type
Style
Std Pack Qty
Price/Package/pc
Price
for piece
491845
1
Glass Door
Lock
25 pc
11 EUR
17 EUR
491846
2
Wooden Lock
25 pc
9,1 EUR
15 EUR
491847
3
Lock Cath
Typ 2
250 pc
0,57 EUR
0,94 EUR

Prices are without VAT. If specified order number, please, it will add it to the selected type of goods. We will be glad to send you any quantity. In case of large subscriptions, please contact us.