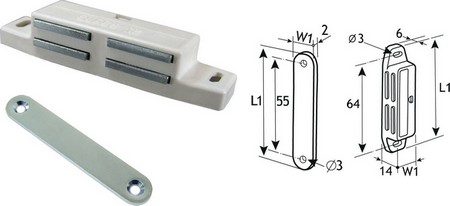 Surface Mounted Catches
Bílý polyamid
Přítlačná síla do 15 kg. Otvory pro M3 šrouby. Magnetka a protiplech dodáváné samostatně.
Part Number
Type
size (mm)
Std Pack Qty
Price/Package/pc
Price
for piece
L1
W1
491986
Catch
74,0
17,5
100 pc
5,7 EUR
9,2 EUR
491993
Couterplate
65,0
13,0
100 pc
1,1 EUR
1,8 EUR

Prices are without VAT. If specified order number, please, it will add it to the selected type of goods. We will be glad to send you any quantity. In case of large subscriptions, please contact us.