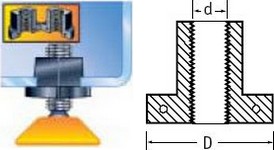 Hinged Threaded Insert
Material: Black Nylon 6. Insert into metal panel. Use in conjunction with M8 adjustable foot or tilt glide.
Part Number
size
pack
Price/Package/pc
price/pc
d
D
199479
8
20
5000
0,16 EUR
0,27 EUR

Prices are without VAT. If specified order number, please, it will add it to the selected type of goods. We will be glad to send you any quantity. In case of large subscriptions, please contact us.