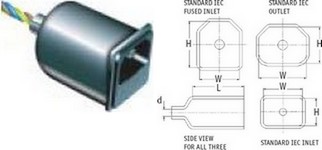 IEC Standard Terminal Insulation Sleeves
Black Flexible PVC. Protect and insulate rear connection receptacles of IEC. Flash tested to 3K Volts AC (EN 60950). ´V´rated in accordance with UL94.
Part Number
Designation
size
pack
Price/Package/pc
price/pc
H
W
L
d
TSWXA-01
Fushed Inlet
31,5
26,5
45
6,4
400 pc
0,48 EUR
0,78 EUR
TSWXA-02
Standard Inlet
24
31,5
45
6,4
400 pc
0,46 EUR
0,76 EUR
TSWXA-03
Standard Inlet
18,2
26,1
33
4,8
400 pc
0,31 EUR
0,5 EUR

Prices are without VAT. If specified order number, please, it will add it to the selected type of goods. We will be glad to send you any quantity. In case of large subscriptions, please contact us.